I've recently realized that in order to summarize my experiences and the experiences of the Short Waves Festival team from organizing the festival in 2020, I would need to publish a book. It wouldn't be a very interesting read, but rather a record of many months of tedious preparations, making decisions based on intuition rather than available knowledge and work, work and more work. Pandemic turned our professional life upside down (not mentioning the private one) and made us verify all of our plans. Film festival, seemingly innocent and entertaining event, is in fact an enormously complicated project: six days of celebration and around 80 events with presentations of +250 films is preceded by a year of work of dozen people (3 of which is working on it full-time), coordination of multiple festival partnerships, production arrangements, work with media patrons, travel coordination of numerous guests from around the world.
In a (very brief) nutshell:
10.03.2020
Because of the pandemic, we cancel the 12th edition of Short Waves Festival 7 days before its planned start. On the same day, we announce that the festival is postponed to August. In two working days we managed to undo all the preparations, and in upcoming weeks we watch in disbelief how every other event is being cancelled, and all cultural life move online. We're switching to home office at least till half of April.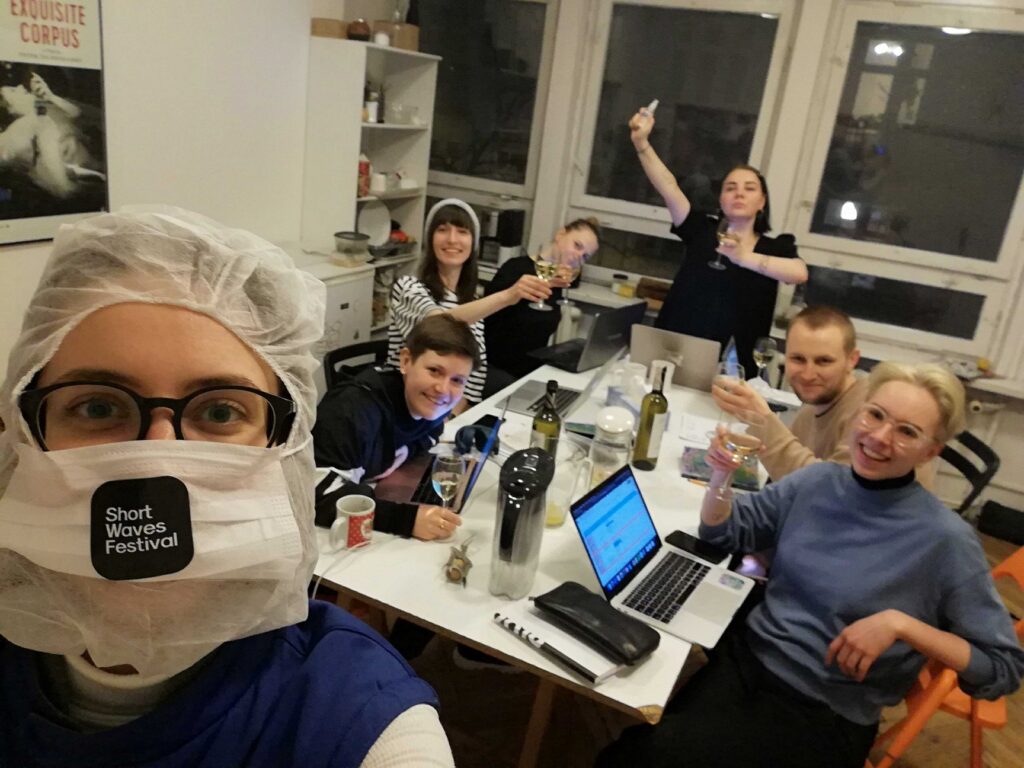 20-25.05.2020
In agreement with portal Ninateka.pl we organize the first edition of Short Waves Online, a competition of Polish short films. Our initiative has a refreshing effect on the team and all 7 competition titles were watched over 6000 times. The event is praised in national media and we also receive a prize of 3000 PLN in the competition Kultura na wynos (Polish: Takeout culture) organized by the city of Poznan.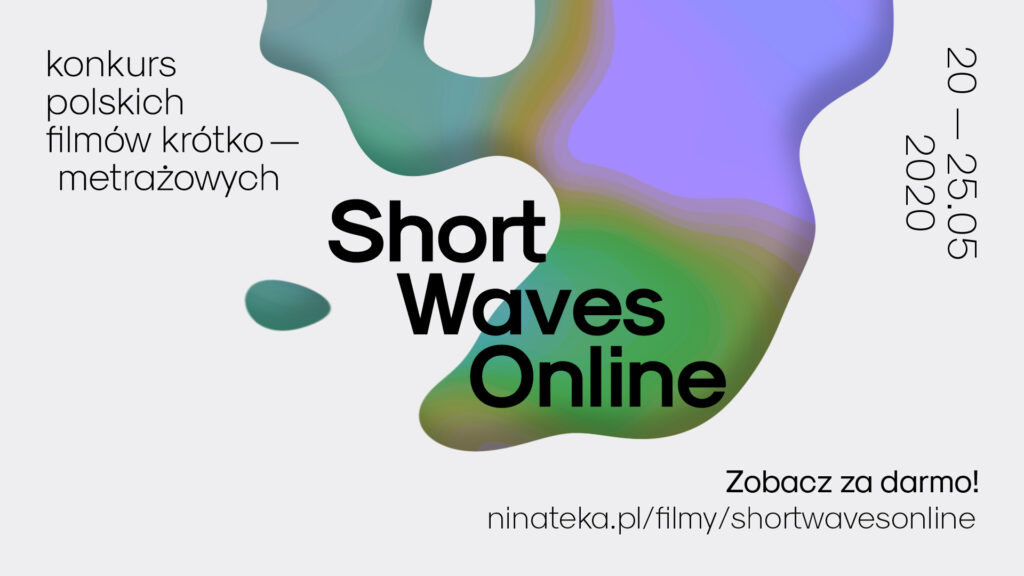 01.06.2020
Still uncertain of the upcoming August edition, we decide to announce a hybrid edition of the festival, and make partnership with Filmchief platform, which allows us to carry out an online part of the festival. We welcome new people in our team, and start again to produce and promote the 12th edition, struggling with the heat. We celebrate the opening of the cinemas at the end of June with traditional screenings of Short Film Days ó this time in 5 locations. We are preparing restyled identification and new promotional campaign.
13.07.2020
We announce the details of the hybrid edition: we're coming back in August with 55 offline events in the so-called new sanitary regime, we'll deliver a festival involving 50 local and international guests. We will present 200 films and organize 12 outdoor screenings. At the same time the festival will be taking place online, geo-blocked for viewers in Poland, but available for international industry and media members. We've also transferred industry panels online, developed with Glasgow Short Film Festival ó a friendly festival from Scotland, which was also postponed from March to August.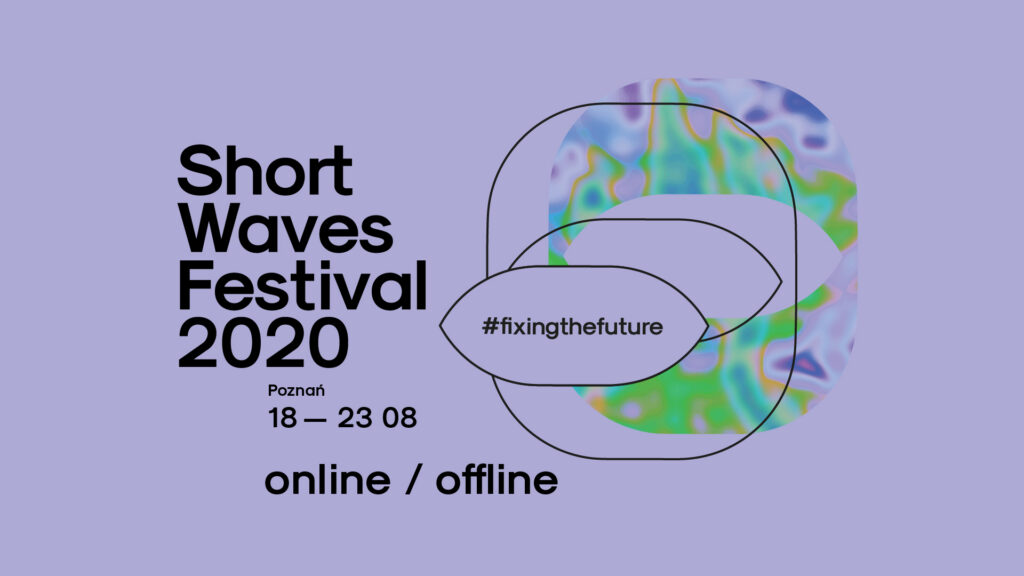 18-23.08.2020
The 12th edition of the festival takes place. Despite overall tiredness and stress on the home stretch, we are happy that after a year and a half break the festival returns to Poznan. We see with great joy good turnout on the screenings and good weather conditions for the outdoor events. During 6 days we manage to gather a couple thousand viewers offline and 350 unique viewers from Poland and abroad (online pass cost 45 PLN) who viewed the films over 3500 times. The industry program involving 20 panelists from 17 countries was streamed by two festivals (SWF & GSFF) and reached hundreds of new recipients. We feel satisfied, although at the end we're struggling with strong emotions due to the homophobic attack which happened to one of the international festival guests. When it's all over, we watch in disbelief at photos of filled cinemas, we read enthusiastic reviews of the films, and words of thanks and support coming from all over Europe. There was no confetti at the end, but I think we all felt a sense of fulfillment and big relief.
In conclusion, here are positive aspects of the whole situation:
-by organizing festival despite the pandemic, we can settle our funds from public sources and other financial arrangements from 2020,
-the team members acquired new skills, including carrying out film events online
-we started cooperating with Filmchief, which serves us as complex film festival management software,
-we feel that online industry program could be a new standard and it's relatively easy to implement,
-despite the pandemic, we managed to present all the competitions in untouched form with 42 000 PLN prize pool,
-we recognized the outdoor conditions and organize the screenings that wouldn't be possible in March,
-we analyzed our program very thoroughly and renewed some formats, for example our cinematic house parties (Random Home Cinema) has transferred into secret garden cinema, which managed to win audience's hearts,
-we have proven that we won't give up easily and we are able to find our way in any situation,
-we were the first film festival in Poznan this year and one of the first in Europe that took place in a hybrid format.
Concerning downsides:
-making Short Waves Festival was possible thanks to the enormous effort of the team, which was overloaded and worked under a lot of stress,
-due to the postponement to summer the festival lose a bit of its traditional, cinema character (towards outdoors and online activities), which also led to financial loss of our partner cinemas,
-some events of the expanded cinema distinctive for the festival haven't taken place or change its character,
-financially, it could be a tough year for the Foundation, since tickets revenue was smaller than what we anticipated in March and repeating the PR campaign or production operations generated new costs,
-another edition of the festival will probably take place in June, since we aren't able to go back to previously planned dates in March 2021.
We've also proven that nothing is impossible and short cinema is our true passion and filmmakers interests are our absolute priority. I wanted to once again thank the entire team, all the people and institutions, without which the festival wouldn't happen and let's hope ó see you next year! <3