As I have already mentioned in the last entry, 2022 will be my year of changes. In the end of 2021 I moved to Nijmegen in the Netherlands and began a new life abroad. I started typing this post back in mid-February, before the Russian invasion on Ukraine, so reading it now makes me think how privileged I am to be able to decide by myself where I want to live and what I want to do (…).

So, the Netherlands it is! After three years of visiting, I have finally felt that it's time to move permanently to this tiny, but intriguing country. I must admit, that saying goodbye to Poznań wasn't too easy as it was my home, a place where I met wonderful friends and started my career in film and in social field. But I needed a change, so in the end I was very much looking forward to it. As I am lucky to have a supportive Dutch partner, the process of transition went pretty smoothly – we moved in to a cheap and nicely located social housing and there was even an old bike waiting for me (and a very shy cat called Vogel, which means bird in Dutch). It took me about a month to complete all the formalities: registration, getting a BSN number, activating a digID, starting a bank account, getting a new phone number, an insurance and registering as a freelancer.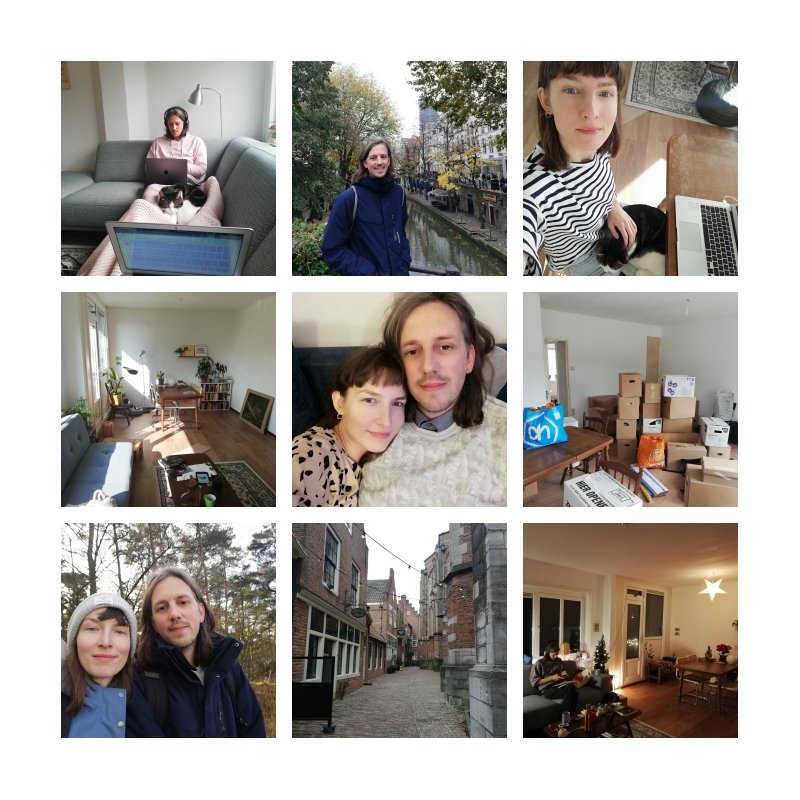 Even though I had some shorts moments of frustration, it hasn't been too complicated and honestly – all the Dutch civil servants are extremely kind and speak communicative English. As most of the covid restrictions got lifted by the end of February, I am beginning to feel more like home and starting to enjoy my new expat life, which means to slowly learn the language, explore the city on bike and try to work on a freelance basis.
That is another change that I am very curious of: after years of working full time with a fixed contract – I've moved on and invite you to collaborate with my one person company – Emilia Mazik Productions.
What do I really wanna do? I hope to use all my contacts and experiences and collaborate with different entities and institutions from the film industry and culture sector. I can program films, coordinate projects, educate and train different groups, advice on projects and strategy, write applications for funding. I have worked for both national and international projects, I am very well organized and I learn pretty fast. Currently my biggest employer is still Ad Arte Foundation, as I am happy to be the Festival Director at Short Waves Festival for one more edition, but I am already thinking of my next steps. Some little things have happened already – I was happy to join the preselection committee of Glasgow Short Film Festival 2022 as well as invested some extra hours to work on the development of Talking Shorts. Let's see what the future brings – I will duly report my Dutch chapter of life (…).
I am finishing this entry three weeks later as the war has started and I couldn't force myself neither to finish nor publish it. Together with Mathieu we tried – as much as we could – to join international help for Ukraine, mostly by sending money to fundraisers (such as Fundacja Ocalenie or Polska Akcja Humanitarna) or by attending local solidarity demonstrations. I am still in a deep shock that right now, in Europe, something so horrifying is happening. I can't possibly image what are the feelings and thoughts of over 2 milion of refugees, who were forced to flee their country with a war trauma. As the team of Short Waves Festival, we are also planning to take some action and add just a tiny little drop of help inthe ocean of needs of the newcomers arriving at Poznań – I will probably write more about it later on or you can follow it here.
In the meantime, here are some links to the verified sources where you can donate your money to help Ukrainians:
#StandWithUkraine
THE INTERNATIONAL FUND 'КОЖЕН МОЖЕ'
The International Fund 'КОЖЕН МОЖЕ' helps children with disabilities and elderly people with disabilities affected by the war in ukraine and in need of support, as well as supports hospitals and volunteer initiatives in Ukraine.
THE UKRAINIAN FOUNDATION 'ТЕРИТОРІЯ ДОБРА'
The Ukrainian Foundation 'ТЕРИТОРІЯ ДОБРА' helps the army of ukraine and children living in the war zones of the donetsk and luhansk regions.
THE 'RETURN ALIVE' FOUNDATION
The 'RETURN ALIVE' Foundation is one of the largest charity organizations helping at the Ukrainian front.
THE UKRAINE HUMANITARIAN FUND
Ukraine Humanitarian Fund helps humanitarian NGOs and UN agencies in Ukraine to assist the most vulnerable communities and people, and to provide them with urgently needed food, water, shelter and other basic support.
I also wanted to recommend all the short film lovers BIG SHORT – an excellent initiative by WIZ-ART, an international short film festival from Lviv – you can watch short films at the online platform and the entire profit from the online tickets goes to Голоси дітей (Voices of Children) foundation. Check it out!