Very often I come across with the question if I still want to watch films in my free time, since I'm professionally involved with the film industry. Of course I do Ė especially feature films, because on a regular basis I am dealing only with shorter forms. I must add that I'm not quite involved in watching series. But I'm happily relaxing and passing time reading books and that's one of my biggest discoveries of memorable 2020: a return to binge-reading from my high school times. What's important, I'm far from complaining about the current state of the world because Poland has a lower readership level . Gloomy visions of illiteracy among society is for me an expression of classism and I'm aware that we're reading less literature, because we are tired and busy with work, and buying new books in Poland becomes an expensive hobby. The habits of using new technologies also changed, so, who knows, maybe we are reading more than ever, only in different forms.
Nowadays, the access to theaters and film culture have become more democratic and talk about recent movie premieres could involve anybody, but reading and talking about books is still seen as an elite hobby.
And that's really a shame because I get a feeling that, especially during a pandemic, reading can be incredibly soothing, when we are overloaded with remote work, screens and internet content. Not to mention educational value, deepening sensitivity or developing your interests. Reading books also improves memory and our cognitive abilities. Based on my own experience Ė I've noticed that reading helps me to maintain focus, with which I had problems, especially during times when I was spending too much time with digital media. I needed a month to stop checking my phone more or less every 15 minutes. Since I read more often in the evenings in bed, I have much better sleep and stopped waking up at night. But how did it all happen? That big change of my reading habits was influenced by three factors.
Firstly, at the beginning of the year, I decided to buy an e-book reader. I know that it's an investment, because the cost is at least 400-600 PLN. But I recommend it with all my heart: I myself resisted for very long, thinking that nothing can replace the rustling of pages, smell of print etc. Nothing of the kind Ė I adjusted very quickly and I reached the point where I upload books that I have on my bookshelf to my reader.
Even though it's an electronic device, e-book readers are performing in a very analogue way ó it's not tiring, don't flash their screens or distract with notifications.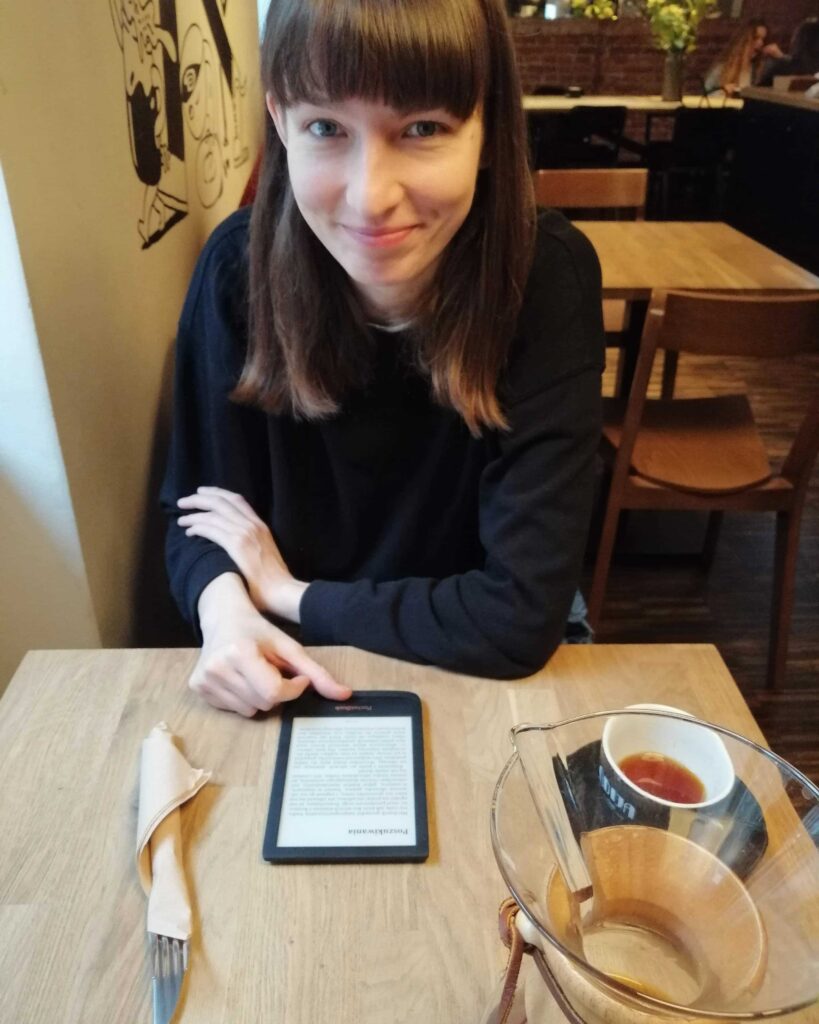 I recommend everyone to find a reader suited to the needs / financial capabilities. I've chosen this model.
Quick list of advantages of e-book readers:
óe-paper technology have developed so much that I personally don't feel any difference between reader and regular book,
óreaders are much more convenient, you can upload a few dozens of books into a small device, which is helpful during travel,
óe-books doesn't take space and collect dust on shelves,
óyou can adjust the font size and read in the daylight or in the dark train, because some readers have optional highlighting of the screen,
óit's easier to read books in foreign languages, thanks to the built-in dictionaries,
óenjoyment of using: I feel that I read faster, the device tells me how much time I've spent reading during a day and also e.g. how many pages has left to the end of the chapter,
óeven with frequent every day using, I charge the reader only once a month,
óit's possible to use e-book libraries which are very comfortable to use.
Speaking of which, what's up with that Netflix for books? A second convenience which I use is the Legimi application. Legimi is a base of 60 thousand ebooks in Polish which could be used in a subscription form – from 7 PLN a month, depending on how many books / pages we wanted to read. I decided to pay for a version without any limits for 33 PLN/month.

Benefits:
ólots of savings, since I can read legally as many books as I want,
óapplication is compatible with most available readers (in PocketBook models this is one of the built-in apps, but it also works with Kindles),
óaccess to all newest releases from most popular publishers (e.g. my favorite ones: Czarne, Krytyka Polityczna, Ha!art, Wydawnictwo Pauza) at the date of release,
óno risk taken, because I can give up with a book I don't like,
óconvenience: books can be viewed in a catalog or with a search box.

How does it work? I usually make my list on the laptop or smartphone, and synchronize it with a reader who has Wi-Fi access. If someone wants to read in a language other Polish or use the e-books outside Legimi, it's possible to purchase it on your own or download the file and upload through USB / from a Cloud.
The readers can handle with a lot of formats, including the most popular EPUB or PDF.
My last, third advice concerns the social aspect and monitoring of your own habits. I recommend Goodreads, which is an app for rating your read books, mainly. In practice:
óthe app is free, installation and setting up the account takes a brief moment,
ówe can search up read books or add it by scanning cover with the phone,
óthe books can be rated using 5-star rating system and we could also post reviews,
óthe books could be organized on shelves Read / Currently Reading / Want to Read,
ówe can set ourselves a reading challenge for the current year and monitor our progress,
ówe can follow what our friends are reading.