Did you know the feeling of digital oversaturation mixed with not being able to prolong your attention span over 20 minutes? Overstimulated, immersed in online reality, we swiftly move from work to our social life, we listen to never ending debates, watch shows or finally Ė taking part in film festivals, all in the spirit of #stayathome. After three months of pandemic and gradual finding myself in the new normality, it's hard for me to judge if transferring our activities online was a good thing. The feeling of weariness grows in me and even though the online formula keeps improving, I miss the offline meetings more and more. I'm, not too openly, glad about unfreezing the cultural institutions, cinemas and outdoor cafťs. I'm mentally saying goodbye with the state of guilt that right now I could virtually attend three film festivals and I still haven't watched a single film.
However, if we can find a bright spot in this whole mess of 2020, it will be an opportunity to widen the possibilities of cooperation and communication between the festivals Ė from local to international cooperation networks.
It's not exactly a new discovery for me Ė we've been building the Short Waves Festival formula for years based on program exchanges with more than a dozen European festivals, consulting ideas and supporting each other promotion-wise. Around 2015 we've joined the Nisi Masa Ė European Network of Young Cinema, with which we successfully organized two editions of coproduction forum European Short Pitch in Poznan. Since 2018, we're the part of a Short Film Conference Ė in my opinion the most interesting initiative gathering short film festivals. It upholds the good standards of organizing festivals by thorough verification of members and encourages to implement code of ethics that support such practices as promoting diversity in film industry, focusing on filmmakers needs or most importantly Ė adequate payment in film industry.
It also looks at actions of more profiled organizations like EWA Ė European Womenís Audiovisual Network, or even local, non-formal group and website Kobiety Filmu (Polish: Woman of Film). But what's the point of coming together and investing your time in networking?
In 2020, we've faced the same and completely new issues, so sharing your knowledge and finding common solutions is extremely valuable and simply pays off.
To all struggling with the challenges of the virtual world, I recommend the series of industry events organized by Short Film Conference and the initiative Be Short Now! The meetings held under the motto Reanimating Your Festival and Going Viral are some of the most helpful materials that I've come across online. Next meetings are scheduled on 10th and 17th of June. More interesting panels for the time of pandemic could be watched also at Andrzej Wajda Centre For Film Culture
entitled Zwrot Akcji. Panels dedicated to festivals and distribution have already taken place, but will also be panel devoted to film education.
And what about the mentioned local level? Here we're also uniting. Outside of Zoom meetings that map our shared problems (classic), four film festivals from Poznan accepted my invitation to co-create our last (let's hope so) meeting of Short Cinema Club in an online version.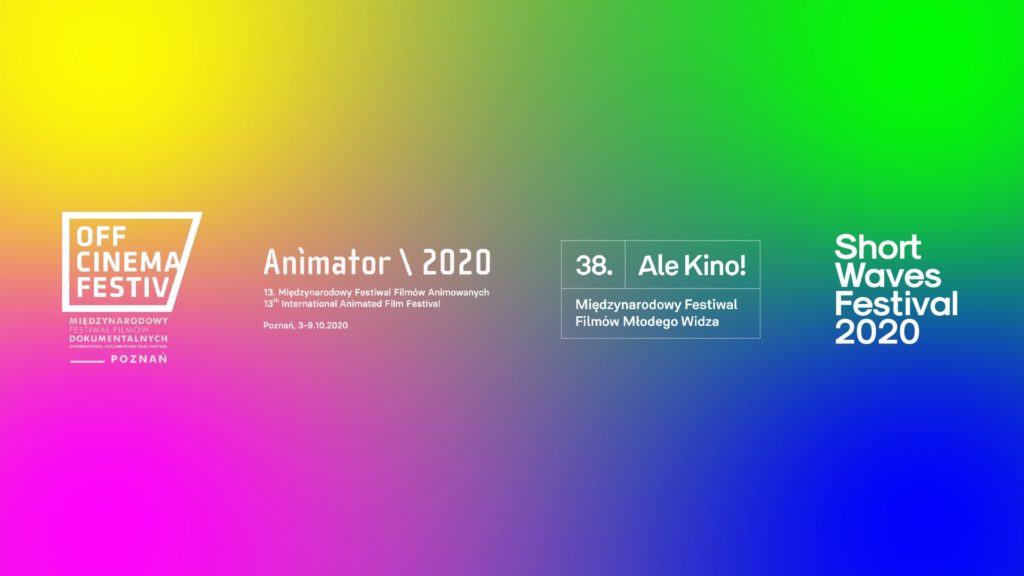 The idea is simple Ė each of the festivals proposed one film for the selection, treating this event as a pretext to connect with the audience that we are all missing. The fact that all four film festivals from Poznan successfully program and promote short cinema is by far the most exceptional thing on a national scale. The audience of Short Cinema Club could expect animation short from Animator Festival, short documentary which won the last year's Grand Prix at OFF CINEMA, film that will be appropriate for a young but also older viewer from Ale Kino! International Young Audience Film Festival and of course Ė a choice experimenting with film form from Short Waves Festival.
The event will take place from 8th till 14th of June and believe me Ė this shorts are very easy to watch during the time of pandemic dispersion.

I would also like to invite you for one more event that will be focused on exchange of knowledge Ė a webinar devoted to my beloved topic of Creating audiovisual events online that I will moderate for Collegium da Vinci together with Maria Biernat – the producer of Animator Festival. More information and registration could be found here. We're planning to take on the topic in a critical way, fully aware that online is not the same as the magic of offline and real meeting. But online events are also part of a new normality in which, whether we like or not, we need to find ourselves. I guarantee Ė the adapting process will be much easier if we do it together.